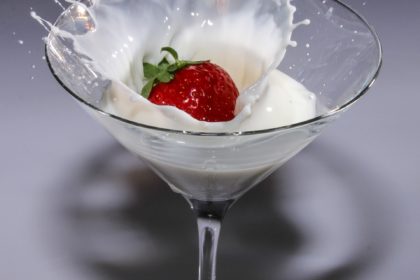 EXPERT GELATO MAKERS FROM ALL OVER EUROPE prepare to CELEBRATE IT
ON THE 24th MARCH, ON EUROPEAN ARTISANAL GELATO DAY,
GASTRONOMIC EXCELLENCE WHERE ITALY LEADS THE WORLD
Longarone, 2 December 2019 - One of the most genuine and popular flavours of all time is set to become the star of Gelato Day 2020, i.e. European Artisanal Gelato Day, which will be celebrated throughout Europe on 24th March. We're talking about yogurt gelato with a strawberry ripple: a delicacy that takes a bow towards Holland, a country that will be at the heart of the 8th edition of Gelato Day. The announcement was made at the 60th International Gelato Show, the international trade fair focusing on the ice cream/gelato sector and which, every year, at the beginning of winter, brings gelato makers to Longarone Fiere from all over the world.
FLAVOUR OF THE YEAR. After a 2019 edition based on Italian style with authentic Tiramisu, it will be the turn of the Netherlands with yogurt gelato with a strawberry ripple. You'll be able to find this special flavour in all of Europe's gelato parlours which decide to take part in Gelato Day. In addition, Holland is famous not only for its characteristic windmills and colourful tulips, but also for its long dairy tradition and for its finest-quality strawberries. Flavour of the year 2020 is truly a feast of deliciousness and well-being. To all intents and purposes, yogurt is regarded as a functional food, often chosen for its lightness and outstanding nutritional properties, just as strawberries are too: highly nutritious, they have low calories and a multitude of healthy properties. In the Netherlands, they can be found all year round, helping the country reach 16th place in the FAO rankings, with 2017 production of 66,100 tons.
GELATO DAY. European Artisanal Gelato Day has been held officially every year since 2013 and is the only "Day" which the European Parliament has dedicated to a foodstuff, the heritage of all gelato makers and the entire supply chain, for the following reasons: "Of all fresh dairy products, artisanal gelato is a product of excellence in terms of food quality and safety, raising the profile of agri-food products in each individual Member State". And as well as being mouth-watering for the palate, artisanal gelato marks yet another great success for Made in Italy, both in terms of turnover and number of gelato parlours in the country (about 39,000), but also of the top manufacturers of ingredients, equipment and showcases for gelato parlours.
This makes Gelato Day a unique opportunity to raise awareness of the advantages and virtues of artisanal products, a true expression of quality, authenticity and territoriality. And gelato lovers will not only be able to find the new Flavour of the Year at every participating gelato parlour in Italy and Europe, but will also be able to take part in initiatives and events that will be unveiled shortly (joint promotions by gelato makers in the same area, gelato-themed contests, master classes for children and teachers on how to make gelato and on its properties, events in conjunction with sports bodies or social associations), many of which will travel across the web and via social networks thanks to the www.gelato-day.it website and official Gelato Day accounts on Twitter and Facebook(www.facebook.com/24MarzoEuropeanGelatoDay).
European Artisanal Gelato Day, the brainchild of Longarone Fiere and Artglace and the 2020 edition sees the arrival of a new partner in ACOMAG, the National Association of Machinery, Fixtures and Fittings Manufacturers for Gelato, the Italian Gelato Makers' Association, CNA, the Committee of Campanian Gelato Makers, Confartigianato, the Italian Gelato Makers Federation, GA - the National Committee for the Defence and Dissemination of Craft and Own-brand Gelato, GAT - Artisanal gelato Makers of the Triveneto, Masters of Italian Gelato, SIGEP - the Italian Exhibition Group's International Hand-crafted Gelato, Pastry, Chocolate, Bakery and Coffee Fair, and UIF - Unione Italiana Food.
Creators and partners from today invite all the gelato parlours of Italy and Europe to take part in the 2020 edition of Gelato Day by signing up at www.gelato-day.it and posting all of the events planned for the most delicious day of the year.
European Artisanal Gelato Day is the only day that the European Parliament has ever dedicated to a foodstuff. Celebrated on 24th March every year in countries all over Europe, with events, meetings and initiatives which aim to spread the culture of artisanal gelato, Gelato Day is a unique opportunity to contribute both to this product and to craft knowledge, as well as to the development of the gastronomic tradition in this sector. One feature of Gelato Day is Flavour of the Year, chosen each year by one of the participating countries – for this eighth edition of Gelato Day on 24 March 2020 it will be the turn of yogurt gelato with a strawberry ripple, chosen by Holland.
Press office
Emanuela Capitanio. Cell. 347 4319334
Alessandra Perrucchini. Cell. 340 4212323
press@itacacomunicazione.it